PA to Douglas Adams & Webprincess-in-Training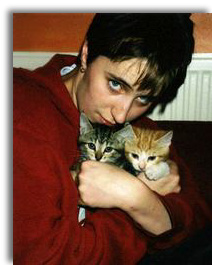 Before joining TDV, I studied French as a major, with Sociology and Art History at the University of Leicester, and spent one year in between at the Universite de Nancy, France. I graduated in 1995 and moved to Brixton where I bought a delightful flat in which to house my furry kittens (above).
In my spare time, I'm learning British Sign Language through Lambeth Council. I also work out at the Jubilee Gym with Emma.
previous:
Douglas Adams

next:
Tim Browse