Chief Executive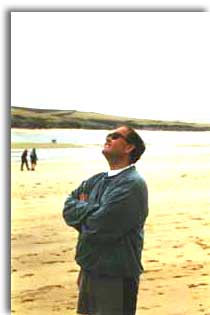 Robbie started his career as a television producer. Over a five year period (1987-1992) he worked on a series of documentary films on the environment, for Central Television's flagship documentary series Viewpoint . This environmental quartet (Can Polar Bears Tread Water?; When The Bough Breaks; Top Guns and Toxic Whales and Sex, Lemurs and Holes in the Sky) won over thirty major international awards, including the prestigious Prix Italia.

For three years (1991-1994) Robbie was an Executive Producer in Central Television's Special Projects department, where he was responsible for assessing the business implications of the rapid changes in digital technology, including cable and satellite, disk-based interactive products such as CD ROM and CD-I, online interactive services and Video on Demand. His other responsibilities included overseeing Central's interests in a number of environmental organisations, including the Television Trust for the Environment.

More recently he sat on the Editorial Board of Context, a strategic briefing service for CEOs and senior executives of large media and media-related organisations, which offers information and analysis on the impact of digital technology on their businesses.

He was Chairman of the International EMMAs, Europe's leading multi-media awards event, held at Cannes, in January 1995 during MILIA.

Robbie is a director and non-executive board member of CHORD (Centre for Human and Organisation Research and Development), which is a small high-level management consultancy, specialising in human resource development and corporate strategy.

Education: St Paul's School, London; Dean Rusk Scholar Davidson College, USA; Corpus Christi College, Cambridge (History); Cranfield Business School (Financial Management). Robbie practices Aikido, one of the gentler martial arts.

"On a holiday in France,when my eldest son (now six) was only three, we played in an old wood and became Sam and Daddy The Dragon Slayers. We travelled in a Dragon Wagon, righted wrongs and fought a lot of fiercesome dragons. About six months ago Sam decided to create a Dragon Dictionary and this is it - if anybody needs translations of the handwriting let me know! (tho' I think for a five year old it's pretty good :-) and here is a more recent piece of work from Olivia my daughter. Sam and Olivia are also working on a story for Lion King III."
previous:
Sean Sollé

next:
Ian Charles Stewart