Translator and Language Consultant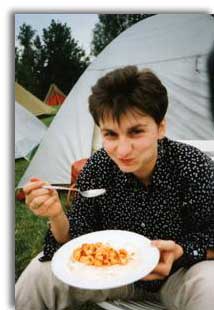 It is rather ironic that I, a technosceptical linguist, find myself talking to robots in all sorts of languages. Previously I taught humans and I can't say which I prefer yet.
Currently I am working on "Raumschiff Titanic", the German version of the CD-Rom game Starship Titanic. Having translated the wickedly funny script into German, I dare say that I gained some insight into this mysterious thing called English humour. I spend most of my time reflecting on the nature of techno-organical puns and why it is that people around me are so witty. I also liaise with our other foreign partners, French and Japanese for instance, to provide editorial support and translation guidelines.
Being a Belgian national living in London I have to endure the repetition of one single joke about my country of origin : "Do you know three famous Belgians" " Hmm, Tintin, Hercule Poirot and ...well, who knows?
Having worked as a language consultant, translator, tutor and interpreter, for 11 years, I am particularly interested in the impact of the new global media on regional cultures. I want to make sure that the Brits have a small hope of ever becoming European and that their understanding of "continental" goes beyond a selection of biscuits.
previous:
Richard Harris

next:
Alison Humphrey